Meet Our Donors
We thank all our planned-gift donors for their generous support. Here are some of their stories.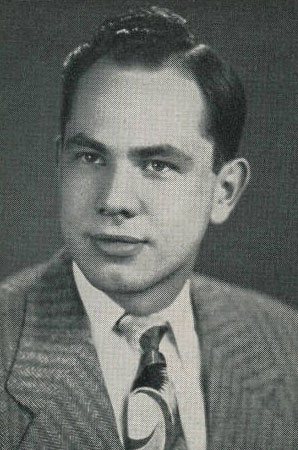 August Ramhorst '49
Early in 2015 Carroll University received a gift of more than $165,000 from the estate of August Ramhorst '49. This distribution from his revocable trust established the August and Frances Ramhorst Endowed Scholarship Fund, honoring his parents and providing aid to Carroll students majoring in art, music, theater or literature.
Raised in Milwaukee, August earned his Carroll degree in sociology and philosophy, was a letter-winning football player and a member of Tau Kappa Epsilon. He went on to earn another bachelor's degree, in theology, and a master's degree in literature, both from the University of Chicago. He taught in France for a time, and spent his later years in southern California, after retiring from a long career with the U.S. Postal Service.
More than ten years ago August took another step to benefit Carroll, setting up a charitable remainder trust. The trust paid him income for the rest of his life, and his cousin now receives the income. When she passes, the remainder will come to Carroll, increasing the Ramhorst Fund by another $250,000 or more.
Two legacy gifts — one paid income to August for life and the other didn't cost him anything during his life. One is supporting Carroll students now and the other will at some point in the future. Both were easy to establish. This was certainly an "august" estate plan.
---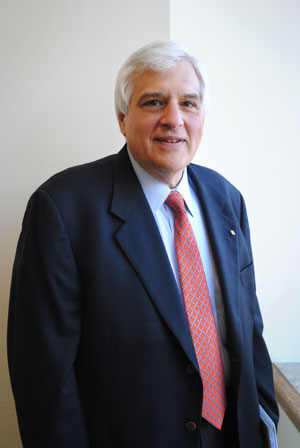 Dr. Guy Di Spigno '69
Dr. Guy Di Spigno '69 is thankful for his excellent Carroll undergraduate experience. Guided and supported by professors such as Dr. Donald Ziegler and Dr. Milo Milanovich, Guy began a journey leading to a successful career as an Executive Development Consultant and Organizational Psychologist.
Guy gives back to Carroll in many ways. He and his wife Gisela are members of the Old Main Society. Guy is a past member of the Alumni Council and former member of the Board of Trustees. He also helped plan the 45th Reunion of the Class of 1969 at Homecoming 2014.
Another way Guy has given back is via a deferred charitable gift annuity. In 2010, he made a gift to Carroll in return for guaranteed lifetime payments. However, he deferred the start of his payments for three years, allowing him to receive a higher payment rate.
Guy says the gift annuity was a great way to make a generous gift to Carroll now, while also receiving an income tax charitable deduction. He likes the supplement to his retirement income and that a portion of each payment is free from income taxes for many years. Most of all, Guy is pleased his gift is strengthening Carroll's endowment.
To learn more about supporting Carroll through a charitable gift annuity, contact Jill Holthaus, Director of Planned Giving, at 262-524-7241 or jholthau@carrollu.edu.
---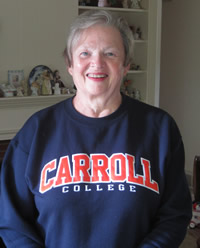 Karen Bruinooge '63
Karen Bruinooge '63 has many interests. Music is one. She is the organist at St. Andrew Lutheran Church in Sheboygan, Wisconsin, and has played violin in the Sheboygan Symphony for more than 40 years. Travel is another. Last summer, she and Val Schneider '63 visited China and Japan for 16 days.
Karen also continues to be interested in Carroll. She was on campus for her 50th Class Reunion at Homecoming 2013. In 2013 she also updated her will...and included a gift to Carroll for an endowed scholarship. The scholarship will benefit students majoring in biology or music.
Growing up in Sheboygan, Karen thought about going to college nearby. When she decided it would be better to go farther away, Carroll was the clear choice. Her father, James, was a 1931 Carroll graduate. And Carroll's strong biology department, led by Dr. Christoph and Dr. Michaud, attracted her, too.
With her Carroll biology degree in hand, Karen began her career as a medical technologist. An internship at Waukesha Memorial Hospital extended to three years working there. Karen then returned to Sheboygan County, where she worked at Plymouth Hospital for two years, then at St. Nicholas Hospital in Sheboygan until she retired in 1996.
Karen established her endowed scholarship because she wants to give back — helping deserving students afford a Carroll education. She received an alumni scholarship, as did her father before her. Karen is excited she is doing something to benefit Carroll students in the future. And she hopes many other alumni will join her in leaving a legacy at Carroll!
---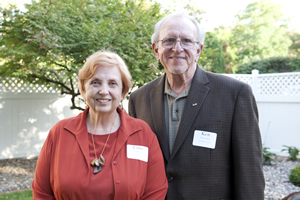 Lana (Zweifel) Matchett '63
When Lana (Zweifel) Matchett '63 was a Carroll student, she and her classmates were inspired by President John F. Kennedy and felt they could change the world. When they left Carroll, they embarked on successful careers in a variety of fields.
Lana was very happy attending college in the small school setting of Carroll. She was not too far from her West Allis home, and future husband Ken could easily visit her.
The scholarship Lana received enabled her to go to Carroll. She finished her degree early, and went on to teach school in Waukesha. After getting married, she and Ken settled into the community and raised three sons.
Several years ago, Lana and Ken were looking for solutions to a property problem they had. They had a duplex they no longer wanted to own but they didn't want to pay the capital gains tax that would have been due if they sold it.
The answer? Lana and Ken made a gift to Carroll that pays them income by setting up a charitable gift annuity. The Matchetts donated their duplex in return for guaranteed payments for life. They made a wonderful gift to Carroll, saved significantly on the taxes, and avoided the hassles of selling the property.
Lana feels good about paying back for the scholarship she received as a student, and paying forward to provide scholarships for current and future Carroll students. She encourages other alumni to explore the various ways they might make a gift to Carroll and receive income for life.
---
Bill and Agnes Randle
Carroll University is one of ten Waukesha organizations that each received gifts of more than $100,000 from a couple whom many of them never knew personally.
Bill and Agnes Randle, co-owners of Randle-Dable funeral home, arranged for their estate to be divided equally among Waukesha nonprofit organizations, including Carroll University. Though Bill Randle died in 1999, he made sure that Agnes was provided for until she died on July 28, 2010, at age 90.
When the organizations were notified of the donations following Agnes' passing, many were pleasantly surprised. "We are very grateful to Bill and Agnes for generously including us in their estate plans," said President Douglas Hastad. "We were unaware that we were going to receive this gift, and wish we would have had the opportunity to know them."
President Hastad also said that Carroll has utilized this gift to meet the university's greatest needs, including student scholarships.
Lee and Cathy Brisk succeeded the Randles and Dables as owners of the funeral home. A personal friend of Bill and Agnes, Cathy said that the couple was very private and would never have talked about their charitable intentions. However, "it made complete sense that they were so generous. They were both community-minded and loved Waukesha… all those organizations are so worthwhile."
President Hastad concurred with Cathy's assessment: "Carroll is fortunate to have been part of Bill and Agnes' philanthropic plans. The gift from their estate will further our ability to help deserving students receive a quality education."
---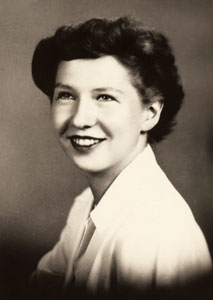 Eunice Hahn '49
Eunice Hahn spent her career helping young people achieve their dreams. A dedicated and compassionate high school teacher and counselor, she guided her students through the sometimes tumultuous teen years and helped them choose paths that would offer success.
Affectionately known as "Miss Hahn," Eunice was beloved by her students, colleagues, neighbors and community. She served on the Carroll Board of Trustees 19 years, volunteered for many Carroll projects and community organizations, and often showed off to visitors the South Milwaukee she loved and called home.
Eunice knew that many students need help to make their dreams come true. To that end, she established the Eunice E. Hahn Scholarship Fund in 1989, a permanent endowed fund. A consistent and joyful donor to both current scholarships and her endowed fund, Eunice knew her generosity would help students excel. In recognition of her volunteer spirit and financial support for students, Carroll presented her in 2000 with the P.E. MacAllister Distinguished Alumnus Award for Service to Carroll.
Before she passed away in August 2010, Eunice made sure the proceeds of her estate would continue to support her scholarship fund, ensuring that students of the future will benefit from her generosity.
---
Helen (Tschanz) Burger '39
An amazing smile, gracious spirit and youthful outlook on life were characteristics that set Helen (Tschanz) Burger '39 apart from others. Helen grew up in the small town of Monroe, Wisconsin. Struggling financially to make ends meet, Helen's family was determined to make her dream of a college education a reality. In spite of all of their sacrifices, affording a college education would not have been possible had it not been for the scholarship Helen received at Carroll.
Helen majored in business and was involved in numerous campus organizations and projects. She was a dedicated student who became a committed alumna, thanks to the strong foundation she built while at Carroll. Following graduation, Helen began working at Kimberly Clark in Appleton, where she met her husband, Bill. The couple married and later adopted a son, John.
Throughout her life, Helen maintained a youthful spirit. Both she and Bill enjoyed new experiences and encouraged others to do the same. The family's lake cottage in northern Wisconsin was a place where they spent a great deal of time and is filled with wonderful memories. Helen's daughter-in-law Carol recalls, "Even at the age of 86, Helen liked to experience new things like a ride around the lake on a wave runner."
A longtime supporter of annual scholarships at Carroll, Helen never forgot the sacrifices her family made and the scholarship support she received from Carroll to make her college education a reality. Helen was always excited to meet her scholarship recipients. Vicki Broecker '06 was one of the students who had an opportunity to meet Helen in 2002. "Helen is very welcoming," Vicki said. "I was very grateful to meet her and to thank her in person for giving me the opportunity to attend Carroll."
Helen's spirit and her philosophy of life are reflected in something she often said: "You can't be sad and feeling sorry for yourself if you're helping others." Helen lived by this principle and, prior to her passing in 2004, she made plans to establish an endowed scholarship fund at Carroll through a gift from her estate. This endowed scholarship now helps keep that spirit alive.
Thanks to thoughtful planning during her lifetime, Helen's legacy will live on in the manner in which she intended, thanks to her efforts to ensure other Carroll students would be given the same opportunity she was given so long ago.
---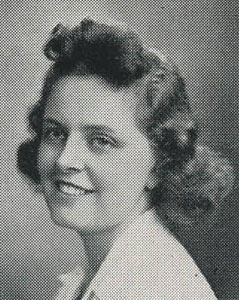 Florice Paulson ('42, English)
One thing that has stayed constant throughout the life of Florice Paulson ('42, English) has been her dedication to education and lifelong learning. Florice's commitment to learning started with her grandparents, who immigrated to America and were insistent on raising their children to be educated and successful individuals. Her family's value for education was always very clear—of her grandparents' 26 grandchildren, 23 graduated from college—and Florice has continued to appreciate its importance throughout her life. As such, "It was just understood that I would go to college. I never questioned it or thought of doing something else," Florice remembers.
Following her graduation from Carroll, Florice shared her devotion to learning as an English teacher until retiring in 1972 at the young age of 52. Since then, she has remained active and engaged by writing books and providing others with a glimpse into the past as a founder of the historical museum of her hometown of Oregon, Wisconsin. Along with her many accomplishments, Florice remains proud of her family's dedication to education. One of Florice's few regrets was not asking her grandparents about the Old World. This regret helped foster her personal philosophy to "always ask." With that in mind, she advised her students to be curious and ask questions.
To ensure that her family's commitment to education continues, Florice made a planned gift to Carroll. She established a charitable gift annuity with Carroll, which provides a lifetime of income to her while ultimately leaving a gift to Carroll. Through this gift, Florice will enhance the lives of generations of students with scholarships. Florice's generosity will ensure that future students will have the opportunity to "always ask."